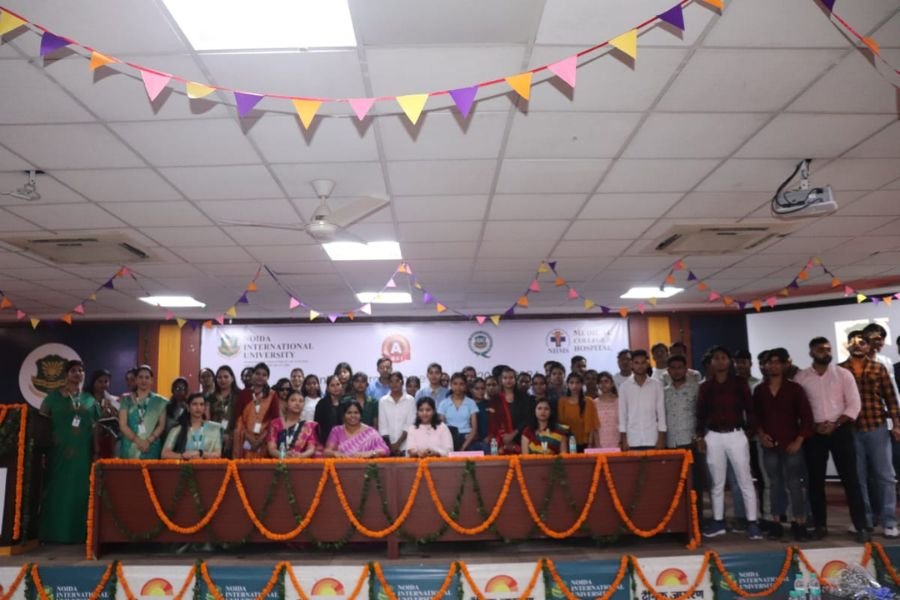 Greater Noida (Uttar Pradesh) [India], August 5: Noida International University's School of Nursing commenced its new academic year with a grand Orientation Programme, welcoming the upcoming batch of students. The event was graced by the esteemed presence of Capt. Indira Rani, Chief Nursing Officer at Jaypee Hospital, as the guest of honor.
The ceremony commenced with a reverent lamp-lighting ceremony, symbolizing the pursuit of knowledge and enlightenment. Capt. Indira Rani, along with Prof. (Dr.) Uma Bhardwaj, Vice Chancellor, Prof. (Dr.) Prasanjeet Kumar, Pro Vice Chancellor, Prof. (Dr.) Mukesh Parashar, Registrar, and Ms. Akansha, Dean Incharge, School of Nursing, illuminated the lamp, marking the auspicious beginning of the academic year.
Prof. (Dr.) Mukesh Parashar, Registrar of Noida International University, inspired the students with his motivational words, urging them to embark on this new journey with self-care, mutual respect, and a strong focus on their careers and studies. He emphasized that the faculty, as mentors, would guide and support them throughout their educational journey.
Prof. (Dr.) Prasanjeet Kumar, Pro Vice Chancellor of Noida International University, exuberantly welcomed the newcomers, stating that this was the first step towards their noble profession. He encouraged them to embrace the challenges that lie ahead and embrace the opportunities to make a positive impact on the healthcare community.
During the event, Prof. (Dr.) Uma Bhardwaj, Vice Chancellor of Noida International University, congratulated the School of Nursing for successfully filling all seats in its 3rd batch. She highlighted the significant transition students experience when moving from schools to universities and stressed the importance of maintaining a respectful distance between boys and girls to ensure a conducive learning environment. The university's strict adherence to rules and regulations was emphasized, with decisions being final and non-reversible. A minimum attendance of 75% was made mandatory to instill discipline and seriousness in students, considering the noble nature of the nursing profession, and also mentioned the mentor-mentee system in place to provide students with proper guidance and support from their mentors.
Capt. Indira Rani, Chief Nursing Officer at Jaypee Hospital, extended her congratulations and spoke about the challenges and rewards of nursing as a service with a smile. She praised Prof. (Dr.) Bhardwaj's leadership and the positive impact it has on students. Dr. Prasanjeet's heartfelt felicitation added to the nurturing attitude a nurse should possess. Dr. Mukesh's analogy of the journey from motorcycles to flights highlighted the various challenges that await in the profession.
Capt. Indira Rani also shared valuable advice for students, encouraging them to stay organized, set clear goals, celebrate small achievements, build positive relationships, maintain a healthy lifestyle, seek assistance when needed, and pursue awards and recognition. She emphasized the importance of faculty development to groom students into skilled professionals. The Chief Nursing Officer thanked Ms. Akansha for the invitation to the event and extended her best wishes to the students.
Dr. Neeraj Sahani, Director of the Placement Cell, delivered a motivating speech to the students, emphasizing the four crucial keywords every company looks for in a resume: certification, internship, skills, and project. He encouraged his inspiring words and extended his heartfelt wishes for the student's success.
The Orientation Programme witnessed the presence of other esteemed dignitaries, including  Ms. Shikha Gupta, Assistant Professor who proposed a welcome speech; Assistant Professor Natasha Verma and Ms. Liji Chaudhary, Nursing lecturer, coordinated the event with Ms. Neha Katocha, Assistant Professor at the School of Nursing. This event serves as a significant milestone for aspiring nursing professionals and their parents who were present in the event, offering them a strong foundation to excel in their chosen fields. Noida International University, renowned for its dedication to academic excellence and holistic development, remains committed to nurturing skilled and compassionate healthcare practitioners.
If you have any objection to this press release content, kindly contact pr.error.rectification[at]gmail.com to notify us. We will respond and rectify the situation in the next 24 hours.