New Delhi (India), September 7: East Delhi Advance NICU proudly unveils its Level III Neonatal Intensive Care Unit (NICU) and introduces 24/7 access to world-class healthcare services, ensuring that every newborn's journey begins with the best possible start and that healthcare excellence is available round the clock.
Level III NICU: Elevating Newborn Care to Unprecedented Heights
In the realm of neonatal care, a Level III NICU represents the zenith— an institution where miracles unfold daily. East Delhi Advance NICU embraces this noble mission with open arms, specializing in the treatment of babies born before 32 weeks' gestation and those with intricate medical conditions necessitating surgical or specialized pediatric interventions.
Guardians of Precious Lives: Critical Care for Preemies and Complex Cases
Premature infants, those born before 32 weeks, or weighing less than 1,500 grams at birth, require a level of care that only a Level III NICU can provide. East Delhi Advance NICU is equipped to champion their cause, extending its healing touch to infants grappling with a diverse range of medical and surgical complexities. Regardless of age, we stand as a fortress of hope for all.
A Legacy of Expertise and Experience
In the intricate world of neonatal care, expertise is the bedrock upon which miracles are built. East Delhi Advance NICU, with its Level III NICU, boasts a storied legacy of handling substantial patient volumes and navigating the complexities of the most intricate cases. Our clinical experience isn't just a statistic; it's a testament to our unwavering commitment to delivering the highest standard of care to every precious newborn.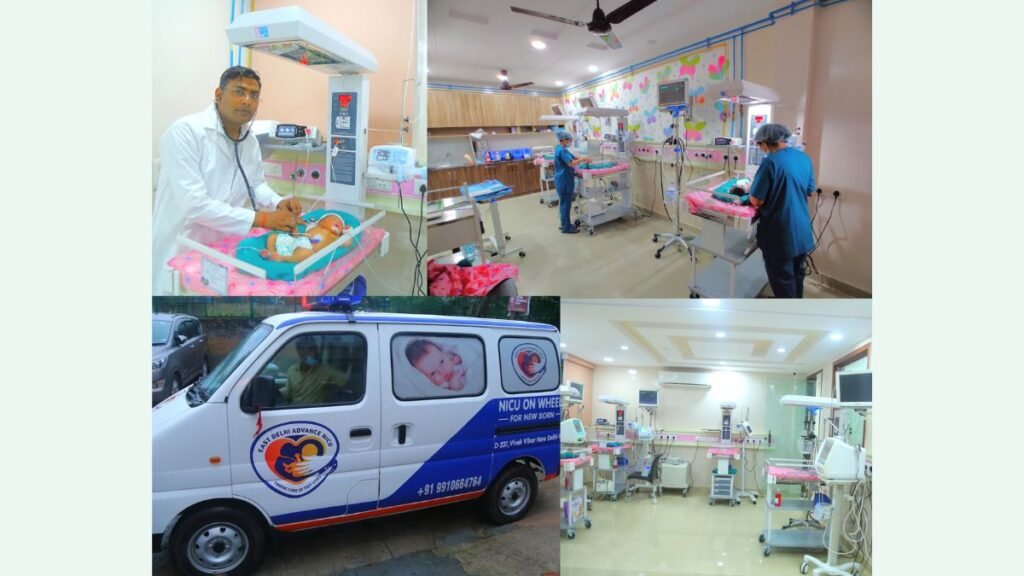 Access to Specialized Neonatal and Pediatric Subspecialists: When Every Moment Matters
Prompt access to neonatal and pediatric subspecialists is the cornerstone of exceptional care. While they may not always be physically on-site, East Delhi Advance NICU ensures their 24/7 availability. This accessibility ensures that no matter the hour, our tiny patients receive the specialized care they require, underlining our devotion to their well-being.
Life Support and Bespoke Services: Where Every Detail Counts
Within our Level III NICU, we're armed with the means to offer life support for as long as it takes. With cutting-edge respiratory support, specialized monitoring equipment, and seamless access to an array of newborn services including surgery, nutrition, pharmacy, and imaging, we leave no stone unturned in safeguarding every facet of a newborn's health with unparalleled precision and care.
Introducing Dr. Ramji Bhardwaj: A Leader in Neonatology
Behind the success of East Delhi Advance NICU stands a true pioneer in neonatology, Dr. Ramji Bhardwaj. With 15+ years of dedicated experience, Dr. Bhardwaj holds an MBBS and DCH degree, along with a prestigious fellowship in NNF Neonatology. As the Director & Head of East Delhi Advance NICU, he has personally saved the lives of more than 2000+ newborn babies, demonstrating incredible expertise and commitment to the field.
24/7 Access to Excellence: Your Trusted Healthcare Partner
East Delhi Advance NICU Hospital extends its commitment to excellence beyond its Level III NICU. Our 24/7 healthcare services encompass a wide spectrum of medical specialties, including neonatology, pediatrics, surgery, and more. With a dedicated team of experienced doctors, nurses, and healthcare professionals ready to provide the highest level of care at any hour, we ensure that every patient receives a personalized treatment plan tailored to their unique needs.
A Message of Hope from East Delhi Advance NICU
"At East Delhi Advance NICU, we champion the cause of the tiniest lives with unparalleled dedication. We recognize that the early moments of a newborn's life are nothing short of sacred, and we are honored to be part of their journey. Our Level III NICU and 24/7 healthcare services are a testament to our relentless pursuit of medical excellence and our deep-rooted compassion for the most delicate members of our community. We stand as a beacon of hope, committed to providing expertise, support, and care every step of the way."
About East Delhi Advance NICU
East Delhi Advance NICU is a renowned healthcare institution specializing in neonatal care. With its Level III NICU facility and 24/7 healthcare services, the hospital stands as a beacon of hope, dedicated to providing the best possible start in life for every newborn. East Delhi Advance NICU's commitment to compassionate care, clinical expertise, and accessibility to specialized services cements its position as a trusted partner in the health and well-being of the tiniest lives.
Contact Information
East Delhi Advance NICU Hospital
Phone: 9910664764
Website: www.delhinicu.com/
Address: PH-1, D-237, Vivek Vihar Phase I, Delhi, 110095
If you have any objection to this press release content, kindly contact pr.error.rectification@gmail.com to notify us. We will respond and rectify the situation in the next 24 hours.